Street Sweeping in HOAs
Homeowners' associations (typically referred to as HOAs) have been a part of the American homeowner's lexicon since the early 20th century. Originally established to maintain the common areas found in planned communities, HOAs have taken on even more critical responsibilities as the years have progressed. Through the creation and enforcement of different rules and regulations, an HOA helps to maintain and even improve a community's standard of living. Beyond that, other perks include increased property values, shared maintenance funding, amenities like playgrounds and parks, as well as a general sense of communal belonging.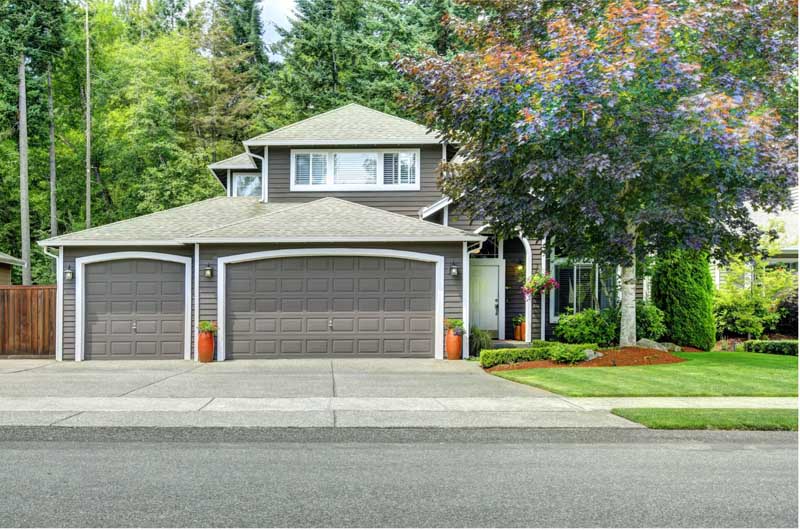 If you are a professional manager or representative for an HOA property, you are well aware of the benefits an HOA provides, as well as the different responsibilities required of the association. For example, keeping a community spotless and good-looking is a top priority for HOAs across the country. However, in pursuing the goal of cleanliness, many people overlook a vital step – hiring a street sweeper. At first glance, street sweeping may appear mundane and unnecessary, but that couldn't be further from the truth. From debris and leaf removal to managing runoff rainwater and removing harmful chemicals from the environment, street sweeping plays a critical role in HOA maintenance and community cleanliness. Continue reading to explore the importance street sweeping has in creating a vibrant and well-maintained HOA community.
Benefits of HOA Street Sweeping
Street sweeping should be an essential part of any HOA's services for reasons that not only include cleanliness but also pertain to the safety, health, and general upkeep of the development or neighborhood in question. These industrial pieces of equipment work efficiently in removing dirt, leaves, debris, and other undesired substances from roads and curbs, far more effectively than an individual with a broom and dustpan ever could.
Curb Appeal:
The primary purpose of scheduling regular street sweeping services as part of HOA maintenance is to improve and sustain general curb appeal and community cleanliness. When debris, litter, dirt, leaf accumulation, and so on are regularly removed from the premises, there is no opportunity for these materials to build up and create eyesores scattered across the area. The cleaner a community is, the higher the property values and lower the crime rates will be – a desirable combination for any homeowner.
Health & Safety:

Another crucial function of street sweeping is maintaining road safety and residents' health within the community. Extraneous debris strewn across the pavement can become a major hazard, potentially resulting in falls, slips, and injuries. Piles of litter and fallen foliage can become slippery when wet, transforming into obstacles for community members to avoid. If allowed to accumulate, street sweeping will also gather dangerous and potentially life-threatening types of debris such as used hypodermic needles, shattered glass, and rusty nails, making the community far safer to explore on foot.
Maintenance:

An essential step to any kind of property maintenance plan (whether part of an HOA or not) is to keep things clean – this applies to neighborhood upkeep as well. For example, street sweeping acts as an effective stormwater management solution, ensuring storm drains remain free of obstructions like fallen leaves or lawn clippings. If these drains become clogged over time, you will see pooling water, flooding, and accelerated erosion of your roads and curbs. In addition to preventing water damage to the community, street sweepers are great for removing oil stains and other corrosive chemicals that, if left to fester, will cause your asphalt and concrete surfaces to degrade rapidly.
Environmental Protection:

Lastly, and often overlooked, are the contributions regular street sweeping makes in protecting and improving the environmental quality around the community. By vacuuming up pollutants such as chemicals, oil, and microplastics, street sweepers prevent such substances from being washed down storm drains and consequently, nearby water sources. Removing these contaminants from your HOA community will help preserve nearby bodies of water, protect wildlife, and support the local ecosystem.
Let the Professionals Handle It
Street sweeping in HOAs serves a myriad of purposes – from enhancing the community's visual appeal to improving safety for everyone living there. However, street sweeping isn't something the average person can do on their own. While it is possible to rent a street sweeper on an hourly basis, it is usually exorbitantly expensive for a homeowners' association to manage and doesn't solve the issue of finding someone who can properly operate the machine. Instead of risking high hourly costs and potential damages to your community, hire the local and trusted professionals at Snugs Services.
At Snugs Services, our team of expert technicians is rigorously trained in the proper technique of operating heavy and industrial equipment, such as a street sweeper. We pride ourselves on finishing the job quickly, efficiently, and with exceptional regard for public safety. With our top-of-the-line vehicles, years of experience, and crew of results-driven professionals, we can ensure a spectacular clean every time. So rest assured, the streets of your HOA will be sparkling in no time when you allow Snugs Services to complete the job! Call us today for all your HOA street sweeping needs.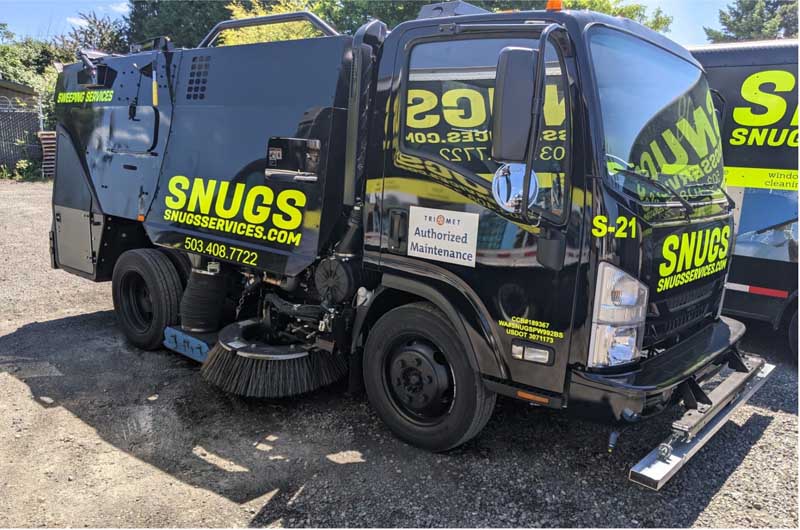 Snugs Pro Wash, Inc, dba SNUGS Services, has been providing high quality Pressure Washing Services in Portland, OR since 1995. Started as a residential pressure washing and roof cleaning service, SNUGS is now one of the leading exterior cleaning companies in the Northwest. From our humble beginnings as a man with a truck and a trailer we have grown to become a multi-million dollar company serving corporate customers, name brands, and mom and pop companies alike.