How To Prevent Water Damage In And Around Your Home
Many years ago, a massive storm with wind speeds and a deluge of rain our country community hadn't seen in years, came crashing through my hometown. It was quite the spectacle. Powerlines were down across the county, reports of flooding throughout the region started pouring in, trees were blown onto peoples' rooftops, cell towers were heavily effected and so on. During this chaos, I was sitting in a dim high school class room, illuminated only by the generator's emergency lights, as sounds of the storm filled the eerily dark hallways. As chaos continued outside, my flip phone began to buzz. It was my mother informing me that the historic storm had effectively ripped a third of the roof off our family home.
The insanity of disaster cleanup began the next day. There was water damage everywhere. My parents discovered that the roof hadn't been examined in several years and apparently this landlocked hurricane had been the final straw for our poor shingles. The realization that our roof's poor condition had resulted in significantly worse damage and flooding than what otherwise would have occurred, was a tough pill for my folks to swallow. While many others in the neighborhood suffered from comparable damage, it didn't help with the knowledge that most of our devastation could have been avoided, if the correct steps for preventing water damage had been taken.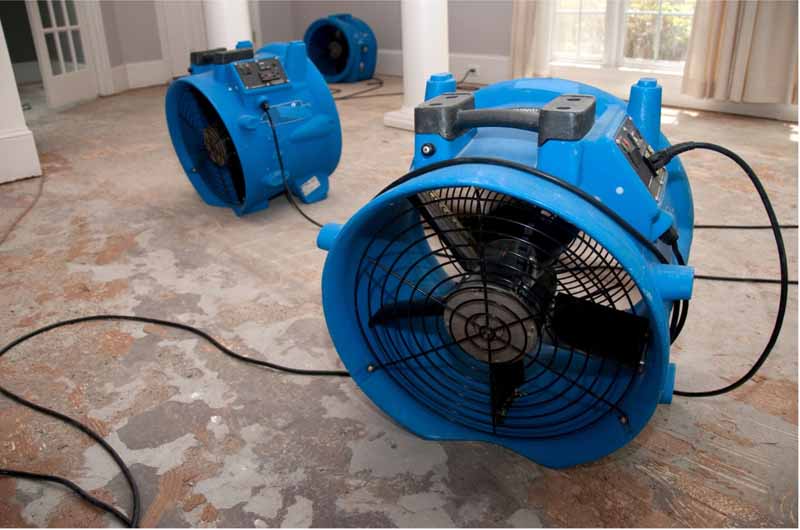 After the damaged roof, soggy installation, ruined carpets and disintegrating pads had been replaced (along with many other steps my hormone-addled brain was incapable of retaining at the time), my parents began to take the steps necessary to prevent this from ever occurring again. You see, when it comes to fending off water damage in and around your house, preventative maintenance is key. Don't wait until your home is filled with roaring fans, plastic barriers and a emergency cleanup crew hustling from one corner to the other to consider your options for preventing water damage. Continue reading to learn about five tips for preventing water damage in your residence.
Attend To Leaks
This pointer probably goes without saying, but a great initial step to take when preventing water damage from occurring is to keep your eyes peeled for leaks. It is crucial to regularly check your home's exterior (as well as interior) plumbing, faucets and drains for any minor leaks. Experts also recommend that you examine any appliance hoses, such as the one leading to your washing machine, at least once a year for moisture accumulation or cracking where the hose meets the wall. If you do notice the tell-tell signs of moisture damage, do not ignore the issue until it has the chance to become a catastrophic problem. Water damage left unattended can result in problems with mildew, mold, dry rot, termites (that soft soggy wood is just so nice to chew through) and possibly even a weakened structural integrity.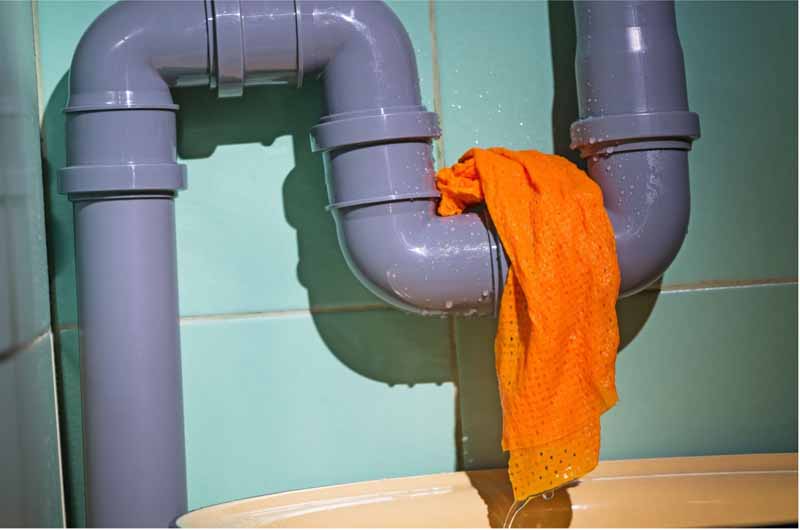 Replace any appliance hoses that you notice are seeping moisture, and if any of your houses plumbing is leaking, go ahead and call a plumber to take a look at things. Of course, if the issue is a minor one, like a loose connection under your kitchen sink, and you feel confident in your ability to replace a sink trap, then it's time to grab the tool chest and get to work. However, if you feel even remotely unsure of the correct course of action – call the experts. But regardless of what course of action you choose, do not allow for leaky pipes to wreak havoc on your home.
Maintain Healthy Gutters
Gutters could probably be considered one of man's greatest inventions when it comes to keeping our homes nice and dry. However, gutters can only do their job when they are properly maintained, otherwise a whole slew of issues can arise. In order to ensure that your gutters are leading water away from your home's foundation and preventing pooling along your roofline, the gutters need to be cleaned regularly. Otherwise, every time it rains, your gutters will simply overflow, resulting in cascades of water running  down the sides of your home, and can even result in the flooding of your basement or crawlspace.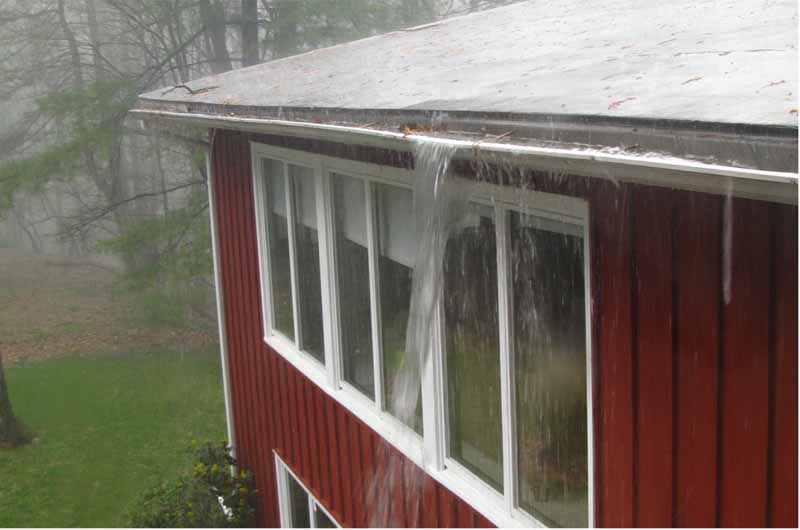 By having your gutters cleaned at a minimum of twice a year, you can help ensure no clogging will occur throughout the year (something that can be crucial during the winter season to preventing the formation of ice dams), can help avoid a myriad of problems. But keep in mind that gutter maintenance does not simply apply to gutter cleanings. When inspecting your home's exterior, if you notice the gutters pulling away from the fascia, or the downspout has begun to disconnect, it's time for either some gutter repairs or replacements. Another great preventative step you can take when it comes to maintaining healthy gutters is having a gutter guard in place. Gutter guards can help prevent dead foliage from filling up the troughs, consequently reducing your semi-annual cleanings down to once a year. Just keep in mind that when it comes to gutters, whether it's cleaning them out, replacing a damaged section or installing guards, there's a high potential for injury. If scaling ladders while handling tools or climbing to new heights is not your idea of fun, hiring professional gutter maintenance services is the way to go.
Inspect The Roof
As mentioned in the beginning, your roof's condition is directly linked to how protected your home is from water damage. You should be regularly checking the condition of your shingles, especially after a storm has blown through. If you wake up one morning to shingles scattered across your front lawn, or a tree branch hurled across the top of the house, it's time to inspect the roof. Using a ladder, carefully climb to the level of the roofline to see what damage has occurred. If you notice significant damage or are uncomfortable trapsing across you roof, nailing replacement shingles into place, you'll need to call a roofing contractor to complete the necessary repairs. Do not leave the roof in shambles until the next storm rips through your city and your living room is unexpectedly converted into an indoor pool.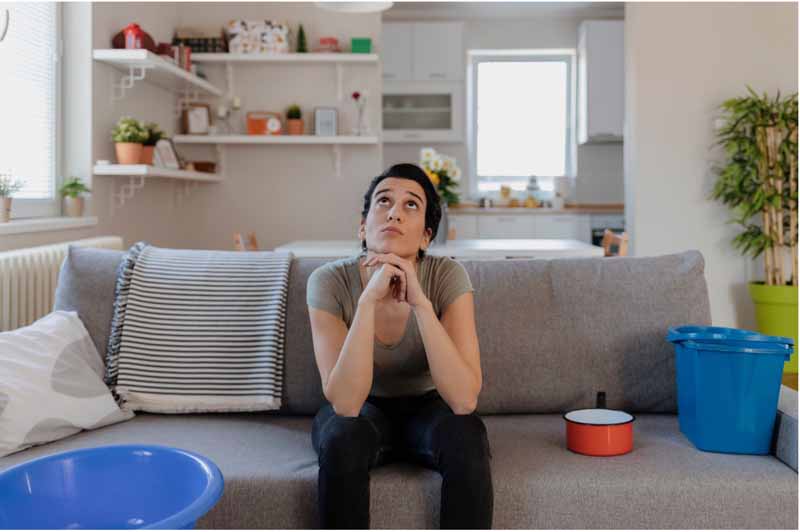 Another aspect of roof maintenance you need to keep in mind, especially as a homeowner in the Pacific Northwest, is roof moss removal. Allowing moss to grow freely on your rooftop can result in loose and lifted shingles, rotting trusses and copious amounts of moisture damage in your attic. However, by having any current roof moss removed and applying an effective moss treatment to prevent further growth. These actions will leave your roof in top working condition and prevent any kind of damage from occurring during the wetter months.
Examine The Window Seals
Windows are a fantastic feature of any house. These glass panes offer a direct outlet to the outside world – filling your home with golden light, naturally warming the building while providing you with a lovely view (depending on where you live, I suppose). If a home's windows are kept in good condition and are cleaned regularly, you'll reap several benefits including increased energy efficiency, lower heating bills, mold and moisture prevention and even an increased lifespan for your window. However, if you notice there's a draught every time you pass the living room window or that there's a layer of foggy condensation that you can't seem to get rid of no matter how hard you scrub, it's likely time for your windows to be resealed. A damaged seal can result in issues from mildew growth to needing an entire unit replaced, but by having the window professionally resealed (and restored if necessary) these problems can be side stepped. While you can attempt to DIY a window resealing, the job being completed successfully is heavily contingent on your technique, the size of the window, it's placement, and whether or not it's a double-pane design. Remove guess work from the process by calling in the professionals.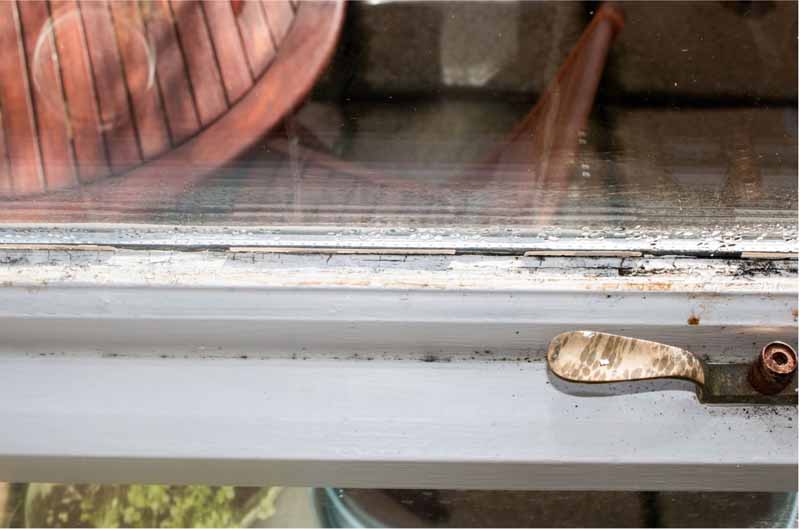 Install A Water Alarm
Another handy tool to consider implementing in your home to preventing water damage from occurring and going unnoticed, is a water alarm. These nifty sensors can be found at most home improvement stores and are a relatively inexpensive investment. Working like a fire alarm, you can place these sensors in areas of the house where moisture might accumulate unexpectedly (like underneath the water heater) and if water is detected, a high decimal alarm will go off. You can purchase passive alarms that will simply notify you of the presence of a leak (if you splurge you can even get ones that connect to your home's smart system). If you're looking for a more comprehensive solution, investing in an active alarm system may be the right step for you. Though a more expensive solution (that requires professional installation), this system can stop a leak in its tracks by turning off the home's water flow once an issue has been detected. But regardless of which option you choose, it will significantly decrease the chance of a leak going unnoticed and unattended in your home.
Trust The Experts
If you find your self in need of some expert assistance, helping prep your home against water damage, then give Snugs Services a call. Our highly trained professionals have been cleaning and repairing gutters, resealing and restoring windows, and treating roof moss for homes in the Pacific Northwest for years now. We take great pride in providing our clients with the highest caliber of work, and getting their homes in top condition. Reach out for a free project quote or to schedule our exceptional maintenance services today!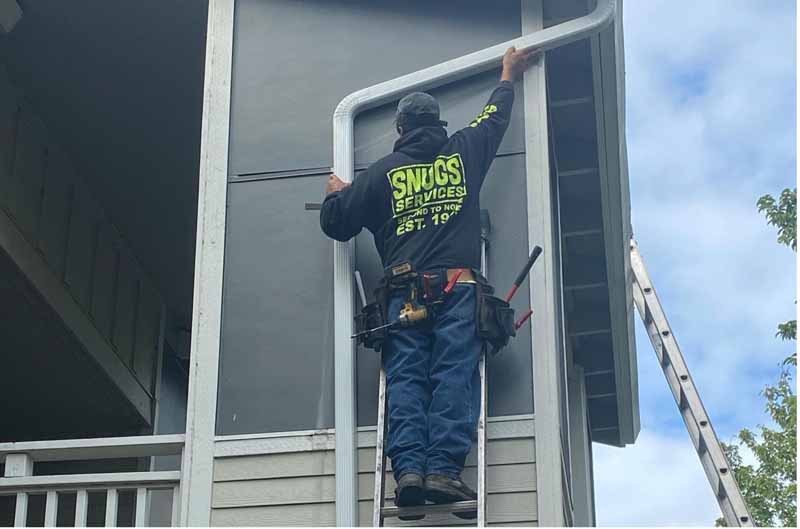 Snugs Pro Wash, Inc, dba SNUGS Services, has been providing high quality Pressure Washing Services in Portland, OR since 1995. Started as a residential pressure washing and roof cleaning service, SNUGS is now one of the leading exterior cleaning companies in the Northwest. From our humble beginnings as a man with a truck and a trailer we have grown to become a multi-million dollar company serving corporate customers, name brands, and mom and pop companies alike.