The Maintenance Handbook For Apartment Managers
Exterior maintenance is a major part of keeping your apartment complex running smoothly. With so much to keep track of, it's a good idea to keep a schedule of the important tasks that need to be done regularly. Let's take a look at the most common maintenance responsibilities to take care of.
Parking Lot Sweeping
Over time debris will collect in your lot. This includes litter, vehicle debris like brake dust and car fluids, and salt or gravel after a snowfall. This debris can degrade your lot, which is exacerbated by the changing of the seasons and the freeze/ thaw effect. This leads to cracks & potholes and costly repairs. A simple way to increase the longevity of your lot is to get it swept regularly. Sweeping also ensures that this debris will be disposed of properly instead of polluting our environment.
Gutter Cleaning and Repair
Water is one of the biggest threats to our structures and can cause serious damage if regular maintenance is neglected. One of the best ways to prevent water damage is to have your gutters cleaned twice a year and repaired when necessary. Our gutters guide water safely away from our buildings, avoiding water damage to our roof, siding, foundation, and landscaping. On the other hand, clogged or damaged gutters can actually accelerate the pooling of water and lead to serious damage. It's best to get a cleaning. It's good practice to get cleanings in the fall and late winter or spring.
Carport Repair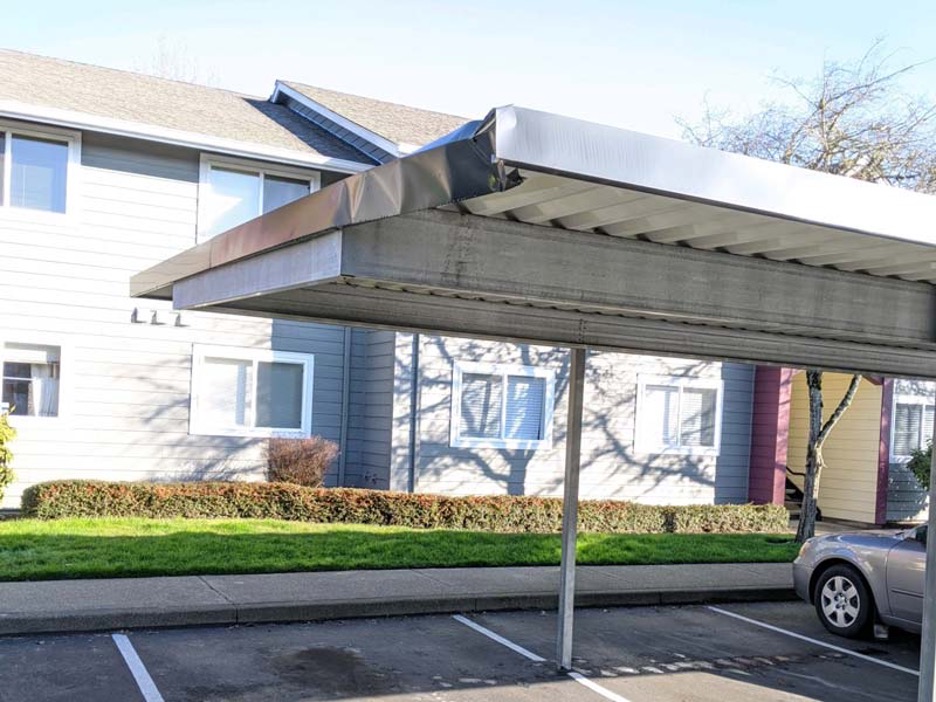 Carports are regularly damaged when tenants are moving in or moving out. Damaged carports both don't do their job as well and look bad, which can leave a negative impression on prospective tenants. When damages occur to your carports, it's best to get them repaired in a timely manner. Snugs will make custom formed replacement parts to match the existing carports, no matter who installed them originally.
Roof Moss Treatment and Removal
The growth of moss on your roof can lift shingles and allow moisture to get places where you don't want it to. Removing moss and treating the roof with compounds that turn moss inert are a great way to keep moss out year-round. SNUGS is approved by the Department of Agriculture to apply treatments and remove moss. We use compounds that are registered with the EPA and are proven to turn the moss inert.
Trash Chute Cleaning
Trash chutes are designed for convenience, but can quickly become a mess if not regularly cleaned. Having a professional cleaning on a regular basis will help eliminate and prevent odors from assaulting you and your tenants, reduce the risk of pest infestations, prevent the growth of mold and bacteria that can cause adverse health effects, and will reduce the risk of a fire in the chute. It's recommended to get a professional trash chute cleaning twice a year, once in the summer and once in the winter.
Snow Removal
Snow can quickly become a real inconvenience to your tenants. It can become a slip hazard and can make your lot a treacherous place to drive. It's best to contract early s that when the snow begins to fall, you're prepared and can receive prompt service. SNUGS offers liquid de-icer application, snow plowing services and shoveling/ handwork services to get your lot clear quickly and keep it clear.
Window Washing/ Restoration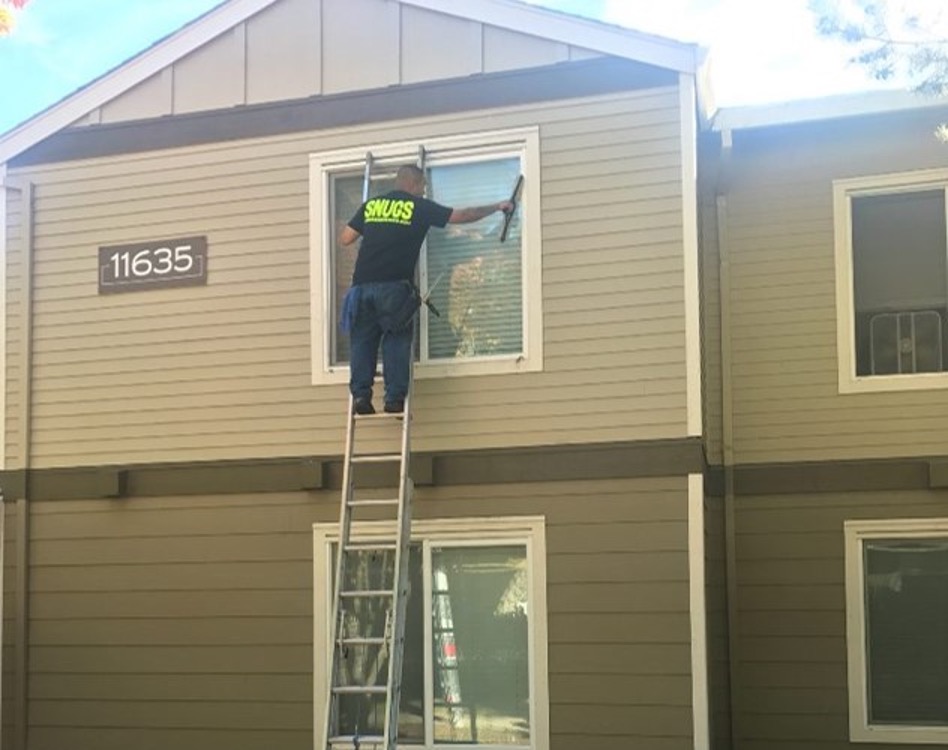 Windows are a crucial part of any building, creating a gateway to the outside. Not only do clean windows look significantly better, they also will last longer. Over time dirt and grime can erode the window seals, allowing the elements to invade the indoors. Once your windows have been damaged in this way, it's important to get them restored. This will keep the windows better insulated and lower your and your tenant's utility bills. SNUGS has been cleaning windows for more than ten years and has recruited some of the most talented window cleaning technicians in the Portland area.
Dryer Duct Cleaning
Clogged dryer vents account for thousands of structure fires every year. Getting your vents regularly cleaned has some serious benefits, from reducing the risk of fire, to reducing the risk of carbon monoxide poisoning from gas dryers, to making the dryers more efficient and effective. Getting your ducts and vents cleaned on an annual basis will prevent fires and carbon monoxide problems, help keep your dryer running at maximum efficiency and can save you time and money.  SNUGS has developed methods to clean the dryer vent from the outside of the building, causing very limited disruption to your tenants.
Masonry Sealant
One of the most important functions of sealant is to act as a barrier to moisture. Water can end up causing concrete to deteriorate, especially in places that experience temperatures below the freezing point of water. When water freezes into ice it slightly expands. This can cause serious damage to your concrete, potentially leading to cracks or degradation. Sealing the concrete will keep unwanted moisture out of the porous concrete, increasing its longevity. Masonry sealant should be applied every 3 to 5 years, depending on the product that is used. We have products with excellent manufacture support, and can come with, up to, a 10 year warranty against water intrusion.
Wood Siding Treatment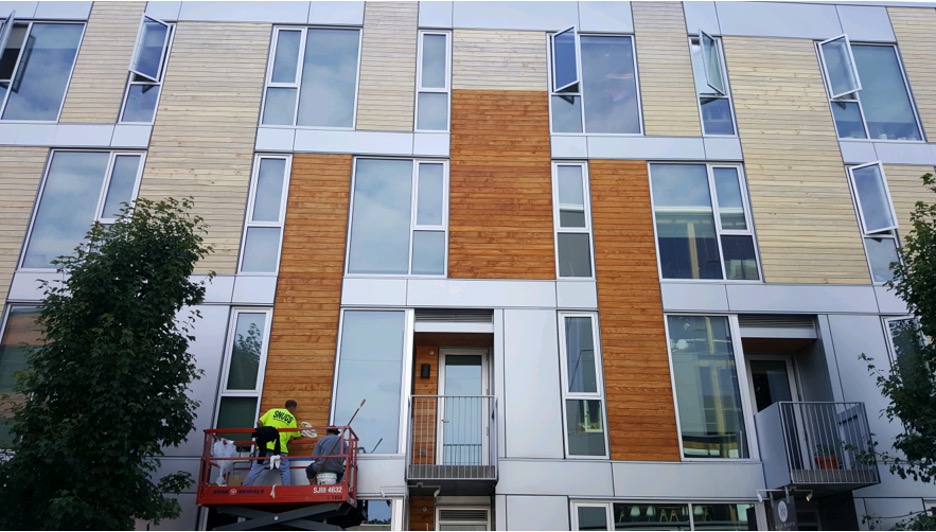 Wood siding looks great, but it needs to be maintained to handle the elements. Having your wood siding sealed will help increase its longevity. Snugs has been working with wood siding on residential homes for many years, and recently branched out to handle much larger projects on mid-rise buildings.
Snugs Pro Wash, Inc, dba SNUGS Services, has been providing high quality Pressure Washing Services in Portland, OR since 1995. Started as a residential pressure washing and roof cleaning service, SNUGS is now one of the leading exterior cleaning companies in the Northwest. From our humble beginnings as a man with a truck and a trailer we have grown to become a multi-million dollar company serving corporate customers, name brands, and mom and pop companies alike.