The Dramatic Effect of Professional Hardscape Washing
You might have noticed that the hardscapes around your business don't have the same charismatic look that they used to. They have dulled and stained over the years, and now your business looks less vibrant and doesn't stand out as much as it used to. It might be time for a deep clean to bring back some life to your business's look.
What is a Hardscape?
Probably a good place to start is what exactly are we talking about? Well, hardscape is just another word for hard materials built into a landscape, this can include all kinds of different features, such as sidewalks, stairs, walkways, retaining walls, drive paths, or any other kind surfaces made from wood, stone, and concrete.
It really is amazing how dirty hardscapes can get if they are not cleaned regularly, and a simple cleaning can make a huge difference in appearance.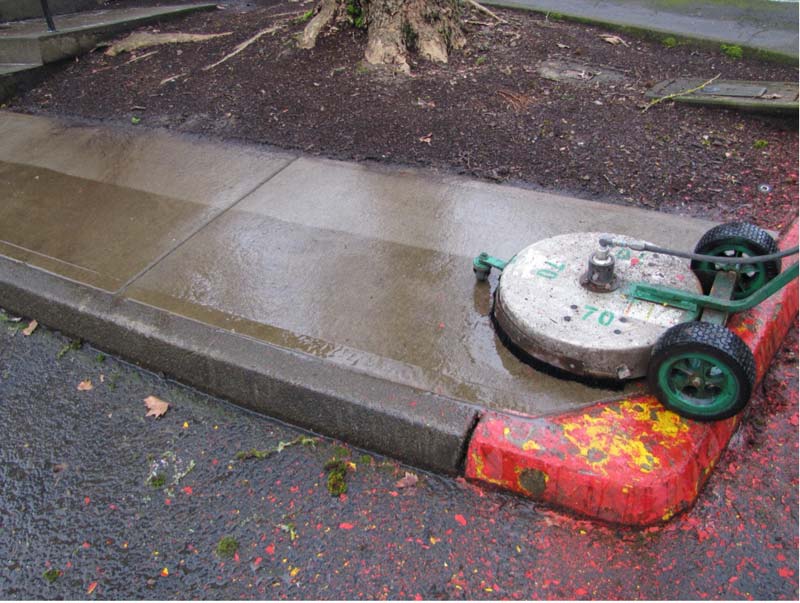 Why You Should Be Wary of DIY
Often times you can clean blemishes using a garden hose or chemicals, but sometimes these methods just won't cut it, and they definitely won't produce the dramatic change in appearance that comes from a deep clean.
So, maybe you should go get yourself a pressure washer and save yourself a couple bucks on hiring someone else to take care of it. However, it is worth considering that experience can play a huge factor in the results that you get. Pressure washing, if done incorrectly, can actually end up harming the surfaces you are trying to clean. Incorrect use of a pressure washer can cause pitting and end up degrading materials. The amount of pressure, the angle at which you spray and how far away the nozzle is from the surface all play a role in using the pressure washer correctly.
If you are cleaning pavers, the sand or mortar between can be unintentionally removed, potentially reducing structural stability. You can also end up washing away the seal coating from these surfaces, making them vulnerable to the elements. Save yourself the trouble and call in the pros so you can be confident that you will get high quality results and spend more time working on the things that matter to running your business.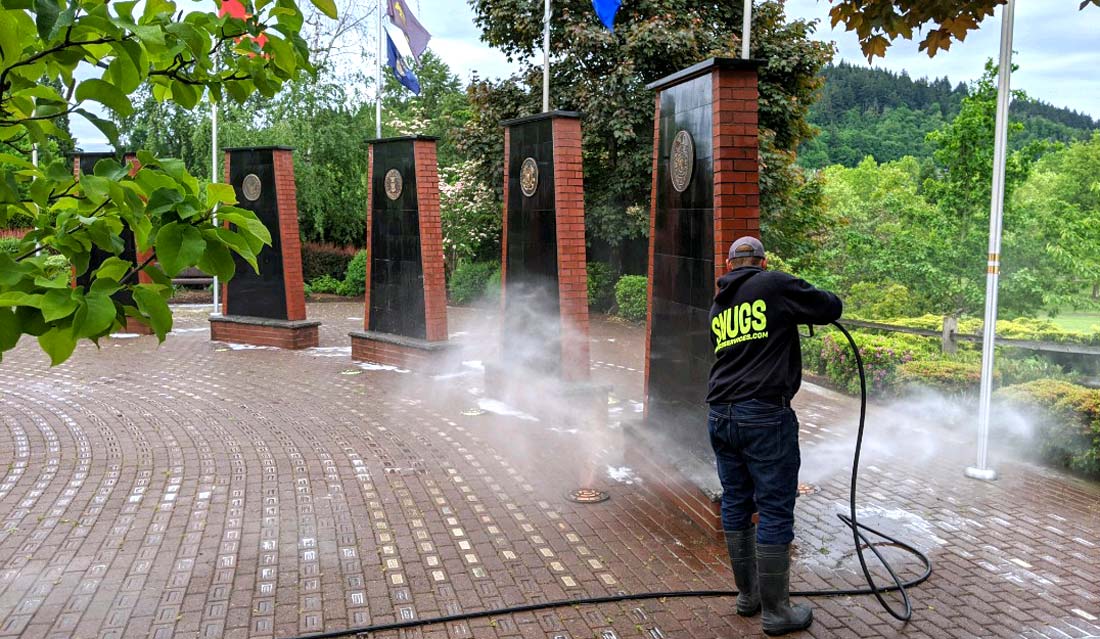 Time to Call in the Professionals
SNUGS has pressure washed nearly every type of surface that can be pressure washed. With over 25 years of experience, you can trust that the team at SNUGS knows how to get the results you are looking for without any unintended damage to your property.
We have custom-built equipment that outperforms any pressure washers on the market, ensuring a deeper and faster clean. Our trucks are equipped with water tanks that can hold 1600 gallons and hot water burners that can heat water up to 210 degrees. With multiple pressure washers on each truck that flow at up to 12 gallons per minute, and experienced personnel, dirt and stains don't stand a chance. Our team knows how to clean any hardscape material you may have at your business.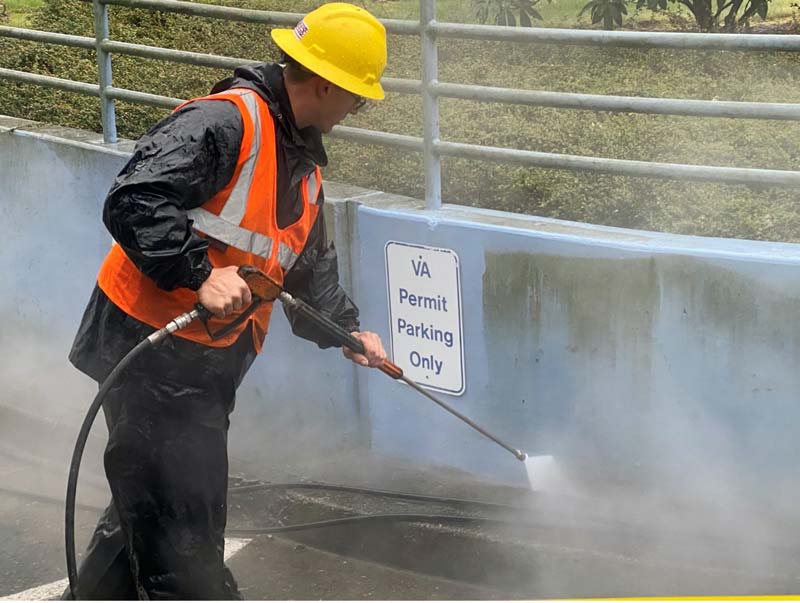 Calling in pressure washing professionals is your chemical free answer to get beautiful and vibrant hardscapes. Make your business look clean and professional. In most areas, including the greater Portland area, this will really help you stand out from the competition.
Off Hours Services – Day, Night and Weekend Service
You may be thinking that you don't want pressure washing services to interfere with your business by making it inconvenient for your customers to access your establishment. Not to worry! SNUGS offers day, night or weekend service to accommodate your schedule. We understand that your business hours need to be reliable for your customers and we can work around your business hours so your bottom line isn't affected.
Conclusion
A good deep cleaning of your hardscapes can bring new life to your place of business. Your tired walkways, stairs, sidewalks and drive paths can get a breath of new life and help your business stand out from your competitors.
SNUGS has experienced personnel and custom-built equipment to get high quality results in a short amount of time. We also offer day, night or weekend services so you don't have to adjust your schedule. Bring back the vibrant look of your hardscapes and transform the look of your building by calling SNUGS today.
Snugs Pro Wash, Inc, dba SNUGS Services, has been providing high quality Pressure Washing Services in Portland, OR since 1995. Started as a residential pressure washing and roof cleaning service, SNUGS is now one of the leading exterior cleaning companies in the Northwest. From our humble beginnings as a man with a truck and a trailer we have grown to become a multi-million dollar company serving corporate customers, name brands, and mom and pop companies alike.