Retail Mall Washing – Keeping Your Walkways Clean, Safe and Looking Great
If you manage a mall, you understand that the walkways around it are essential to the success of your business. However, keeping these surfaces clean and safe is easier said than done. There are a lot of walkways to deal with and a lot of foot traffic that can make it difficult to get to without obstructing customers from entering the building.
Consider this problem solved! SNUGS offers professional retail mall washing services and with day, night and weekend services provided, you can rest easy knowing it won't interfere with your business hours.
Getting your sidewalks and walkways professionally cleaned will help you with a couple common problems; gum and moss, as well as increase your mall's overall curb appeal.
Chewing Gum Removal
Is there gum stuck to the walkways around your building? Littered gum can leave ugly dirty spots all around your building. Besides looking unsightly, gum can interfere with your business in a couple of other ways. It can get stuck to your customers shoes, leading to a poor experience at your place of business. It can also leave clean spots if you try to remove them by spot cleaning. If left to sit, gum can leave stains and become much harder to remove. It takes gum years to naturally degrade, so really your only option is to give your walkways a deep clean.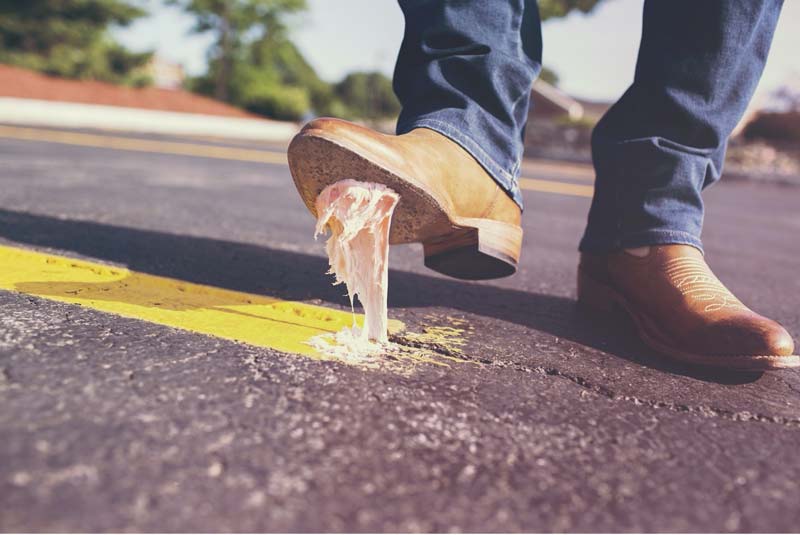 Incorrect removal of gum remnants can actually end up damaging the surfaces you are trying to clean. To avoid leaving your walkways damaged, you may want to call in the professionals.
SNUGS has custom built pressure washers that not only effectively remove gum, but give your walkways a deep and even clean. This will solve all of your gum related problems. Our specialized equipment can heat water up to 210 degrees and flow at 12 gallons a minute. Gum won't stand a chance and neither will dirt and grime. Our trucks hold up to 1600 gallons, so we can handle large locations to get the job done quickly and effectively.
Our staff are experts and you can be confident that you will get a quality clean and gum removal.
Moss Removal
Moss will grow in areas that are regularly damp and don't get much sunlight. Some of the areas around your mall probably fit this description. Walls that face North and areas that are obstructed from sunlight are ideal places for moss to get out of control, especially in the Pacific Northwest.
There are two reasons you should be concerned about moss taking over the hardscapes around your mall. Moss can make surfaces slick and increase the potential for customers falling. This reason alone is why it is important to remove moss from your walkways in a timely manner. Moss can also end up damaging the sidewalks around your mall. It's not so much the moss, but what moss does that ends up causing problems, and that is holding moisture. Water damage is a serious problem and water has a lot of destructive power. Constant contact with moisture can cause the materials your hardscapes are made of to deteriorate.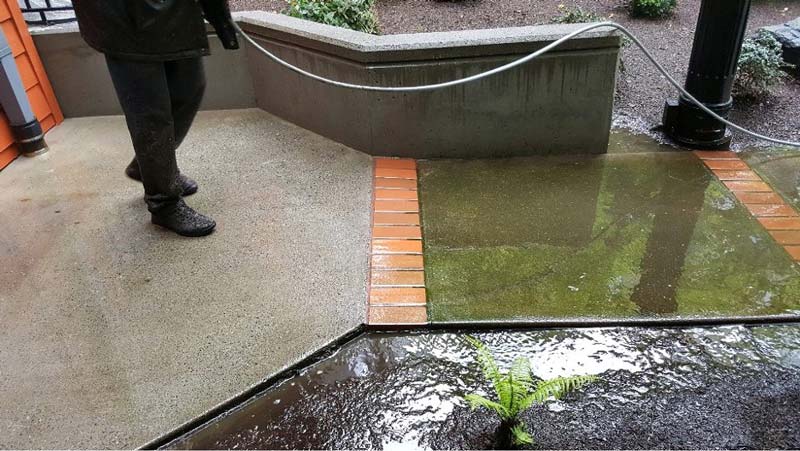 SNUGS pressure washers can clear up moss in no time, the high temperatures of the water sprayed kills moss and the pressure washes it away. Our experienced team knows how to keep your property in tip top shape, so none of your hardscapes or landscapes will be damaged. You can rest assured knowing that only the unwanted vegetation will be removed and your landscaping will remain unharmed.
Increase Your Curb Appeal
It should be obvious on first sight that your place of business is professional. A big part of this is cleanliness. Maintaining clean walkways around your retail environment is essential to keeping a professional look. If you don't invest in maintaining your property, people will treat it the same way. If, however, you treat the aesthetics of your business with care, people will take notice.
A clean and professional looking retail environment will attract more customers and the right kind of customers. If it's clear that you care about the way your business looks, then people are more likely to trust doing business with you because it's obvious that you take pride in what you do. They are more likely to trust the products that your business sells, and more likely to shop longer!
Conclusion
The walkways and hardscapes around your mall are really important to how it functions. Keeping them clean will make them look better, create a more pleasant experience for your patrons, keep your business safer for customers and increase your curb appeal. Contact SNUGS to get a professional and deep clean that works with your business hours.
Snugs Pro Wash, Inc, dba SNUGS Services, has been providing high quality Pressure Washing Services in Portland, OR since 1995. Started as a residential pressure washing and roof cleaning service, SNUGS is now one of the leading exterior cleaning companies in the Northwest. From our humble beginnings as a man with a truck and a trailer we have grown to become a multi-million dollar company serving corporate customers, name brands, and mom and pop companies alike.