Replacing Downspouts To Improve Water Flow
Gutters are an essential part of any home and many commercial buildings, but the unsung hero of the gutter system often gets forgotten and neglected. Your downspouts are equally as important as your gutters to make a fully functioning water diversion system. Gutters collect and guide water into downspouts and the downspouts take the water safely away from you building to a designated drainage area. It's very important to the health and function of your gutter system that your downspouts are well maintained and replaced as needed. Let's take a look at some of the reasons you will want to take good care of your downspouts.
Avoid Clogs
Clogged downspouts can mean serious trouble for your gutters. The most obvious is that water will not be able to drain properly, and you may have water backup into your gutters and possibly overflow. Water is pretty heavy and all that water sitting in your downspout and gutters poses the risk that your gutters may sag or pull away from your building entirely. Another issue that clogged downspouts can cause is splitting and cracking. This can be due to moisture alone, but especially from cold temperatures causing water to expand. It's important to get your gutters and downspouts cleaned regularly, twice a year is recommended. It's also important to replace any downspouts that may have already been damaged.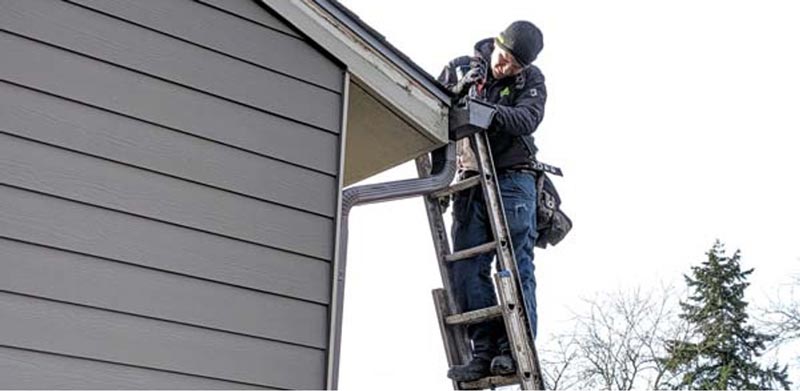 Discourage Pests
The enclosed environment of downspouts makes them attractive to pests of all kinds, from rodents to insects. Pests often build nests in downspouts which keeps them safe from predators, but wreaks havoc on your gutter system. Nests can cause clogs and all the issues that come along with them. Having pests near your home is trouble for a couple reasons. The first is that with pests like rodents and insects, disease is a serious concern. Another is that if the pests find your downspouts to be inviting, they will find inside your home or building even more attractive. Regular cleanings and replacement can take care of this issue for you.
Keep Water Away From Your Foundation
If you're not careful, damaged downspouts can degrade your building from the bottom up. Cracks, leaks, or clogs can cause water to pool around your foundation causing it to break down over time. Keeping a close eye on the condition of your downspouts to replace or clean them when necessary is essential maintenance and failing to do so can cause your foundation and everything above it to be damaged.
Avoid Flooding Your Basement
If you have a basement, then leaky or damaged downspouts are just as much of a threat to your basement as they are to your foundation. Pooling water at the base of your building will inevitably find its way inside. Flood damage can be very serious, even with just a little bit of water, and it's often not covered by standard insurance policies. Simple maintenance and replacement of downspouts will help you to avoid a flooding catastrophe.
Protect Your Roof, Siding, and Landscaping
If your downspouts are clogged or damaged, water will get to where it's not supposed to go. Clogs can cause water to backup onto your roof and damage your building from the top down, threatening everything below where the water is pooling, including your siding. Clogs and leaks can also destroy any landscaping below it. Protecting your roof, siding, and landscaping from water damage caused by damaged or leaky downspouts is easy through regular maintenance and replacement when necessary.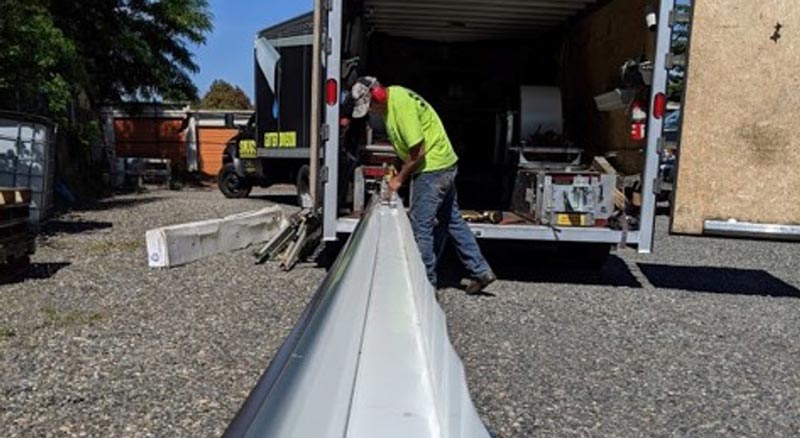 Control Where Water Gets Redirected (Downspout Extensions)
The main purpose of downspouts is to take the water fed to it by your gutters to a designated drainage area. Your downspouts must be well maintained to perform correctly and for even further control of where water goes, you can opt for downspout extensions. These are great for when you have landscaping or hardscapes that you want to protect from excessive water. Extend your downspouts around the features of your property that you want looking and functioning great and your curb appeal is sure to be top notch.
SNUGS has gutter installation crews with the latest equipment and knowledge to install a gutter on a new building, or replace the full gutter system. Any downspout or maintenance you need, including cleaning, is something we specialize in. Our corrugated downspouts are designed to work in complement with 5K, 6K, and Fascia gutter types for optimum flow and less clogging. We only use aluminum gutter materials for longer life of your gutter system. Our gutters are attached with screws and hidden hangers to attach to your building better, and not come off as easily. We have many different options to help protect your building and get the water, and debris off your building.
Snugs Pro Wash, Inc, dba SNUGS Services, has been providing high quality Pressure Washing Services in Portland, OR since 1995. Started as a residential pressure washing and roof cleaning service, SNUGS is now one of the leading exterior cleaning companies in the Northwest. From our humble beginnings as a man with a truck and a trailer we have grown to become a multi-million dollar company serving corporate customers, name brands, and mom and pop companies alike.