OSHA Requirements for Window Washing
The Occupational Safety and Health Administration (OSHA), part of the US Department of Labor, sets and enforces workplace standards. In regards to window washing, especially for mid and high-rise buildings, there are requirements that both building owners and window washing employers need to be aware of. These are laid out in Standards – 29 CFR 1910 Subpart D.
Building Owners
These regulations hold the building owner responsible for a number of actions that are related to window washing. Mid and high-rise buildings have anchorages that are designed for suspension systems, such as rope descent systems (RDS), to attach to so maintenance, like window washing, can be performed on the exterior of the building. These anchorages are the focal point of a number of the regulations set forth by OSHA.
Each anchor point is required by law to be certified, as often as necessary, and at least every 10 years. OSHA does not specify criteria for certification testing other than that a "Qualified Person" can use any "scientifically-valid testing criteria to determine whether an anchorage is capable of supporting at least 5,000 pounds (2,268 kg) (in any direction) per attached worker." Each anchorage must also be inspected annually by a qualified individual.
Qualified persons can be identified as someone who holds a recognized degree, certification or professional standing, such as an engineer, or someone that has, through experience, knowledge and/ or training, demonstrated their ability to do the job well.
Testing comes in a variety of forms, such as visual, but most of the time a pull test is needed. According to OSHA, it is permissible to pull test at 2,500 pounds.
Building owners must inform employers in writing that each anchorage has been identified, tested, certified and maintained in compliance with the standards set by OSHA before an RDS is used on the anchorages. Employers need to hold on to the paperwork for the duration of the job.
Employers
As stated earlier, building owners need to provide written information about anchorages meeting OSHA standards, and employers need to make sure no employees use any of the anchorages before the information has been provided.
Let's talk about rope descent systems (RDS), as many of the regulations are specifically about RDS. OSHA defines an RDS as "a suspension system that allows a worker to descend in a controlled manner, and as needed, to stop at any time during the descent." They list the components of an RDS as "usually consist(ing) of a roof anchor, support rope, a descent device, carabiner(s) or shackle(s), and a chair (seat board)."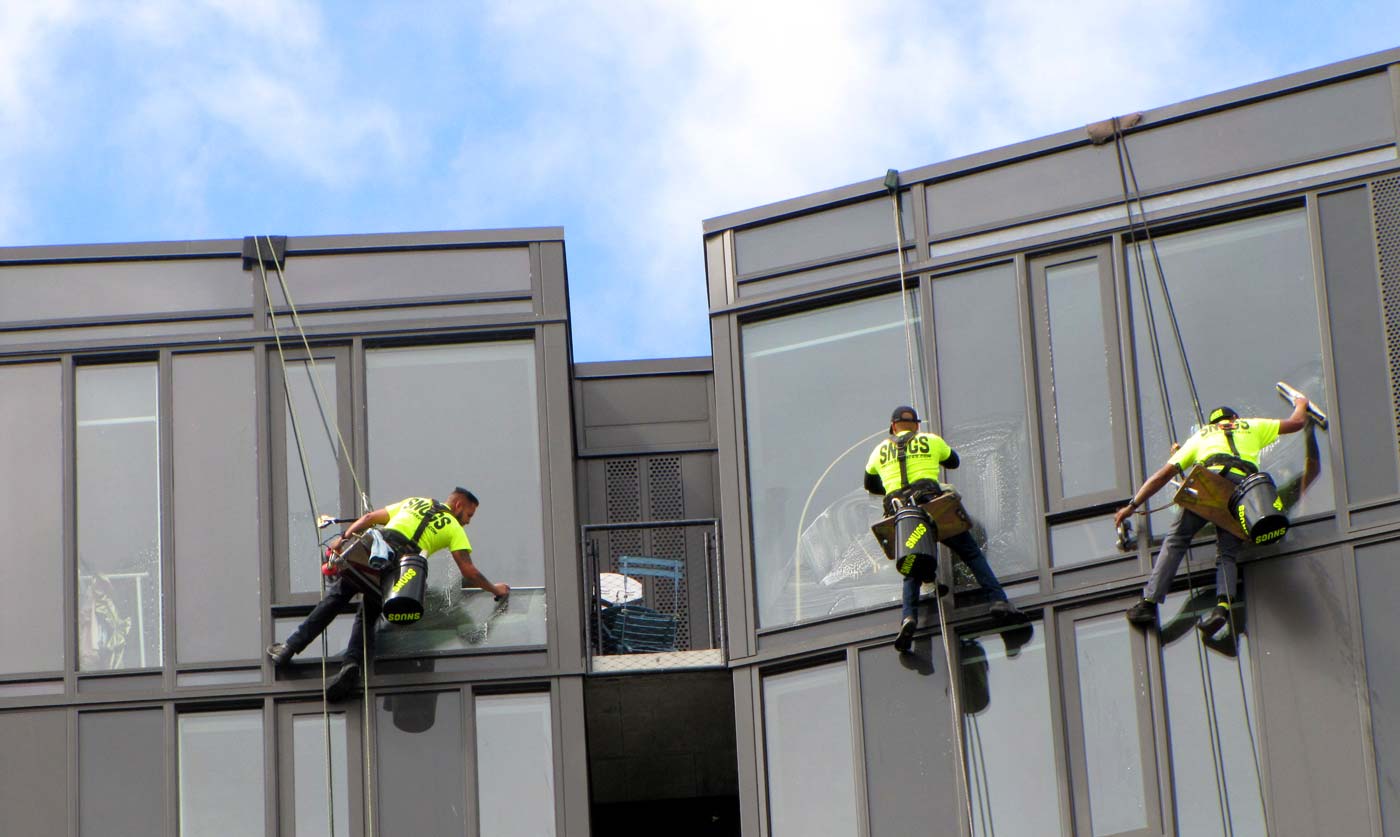 OSHA has also required that employers do not use RDS above 300 ft above grade (above the ground, basements not included) unless it is reasonably demonstrated that there is not a safer way to access work sites. This requirement does not apply to industrial rope access systems (IRAS) in which technicians receive extensive training. The biggest difference, besides amount of training, between RDS and IRAS is that RDS only descend and IRAS can descend, ascend and traverse horizontally. Currently there are only 17 buildings in Portland that are over 300 ft.
Here is a list of further regulations outlined by 29 CFR 1910:
Employers must ensure each worker using an RDS be trained in accordance with OSHA standards, including proper set up, use, inspection and storage of equipment.
All components of the RDS must be able to support a minimum load of 5,000 pounds, excluding seat boards, which must be able to support 300 pounds.
When using an RDS, each worker must use a separate personal fall arrest system attached to a completely separate anchor.
All contact points that the ropes in the RDS have with the building, anchor, obstructions or any other surface need to be sufficiently padded so they will not be weakened or cut.
Employers must have a rescue plan that can be quickly implemented if a worker needs rescuing.
All equipment needs to be secured by a lanyard to prevent people being struck by falling equipment.
No RDS is to be used in hazardous weather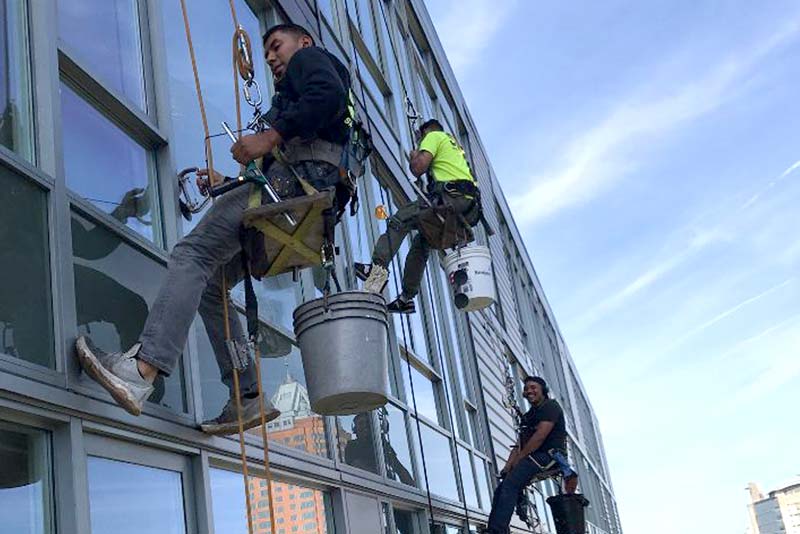 SNUGS has been cleaning windows for more than ten years and have recruited some of the most talented window cleaning technicians in the Portland area. We clean every size of building from the tallest buildings in Portland, retail malls, and residential homes. We perform water spot removal, window restoration, window sealing, and polishing services also.
SNUGS has cleaned some of the most iconic buildings in Portland like the Oregon Convention Center, Portland Performing Arts buildings, Metro Regional Center, Many of the multi-family high rise buildings, and many of the new high-rises in the south water front. We are contracted with many government agencies and schools for window washing services.
Conclusion
These regulations are aimed at reducing workplace related injuries and deaths due to falling. They have been put in place to ensure that both building owners and employers understand their responsibilities toward workplace safety. Basically, building owners are responsible for the structural integrity of their property to ensure the safety of workers using it and employers are responsible for the equipment and training to keep workers safe.
Snugs Pro Wash, Inc, dba SNUGS Services, has been providing high quality Pressure Washing Services in Portland, OR since 1995. Started as a residential pressure washing and roof cleaning service, SNUGS is now one of the leading exterior cleaning companies in the Northwest. From our humble beginnings as a man with a truck and a trailer we have grown to become a multi-million dollar company serving corporate customers, name brands, and mom and pop companies alike.