How to Improve Your Company's Curb Appeal
Often when we hear curb appeal, we think of residential areas and selling real estate, but curb appeal is just as important for businesses. Maintaining strong curb appeal can have a big impact on the amount of business that you receive, even accounting for up to 70% of first-time sales, depending on your industry. Remember that you only get one chance to make a first impression, so why not make it a good one?
There are a number of ways to keep your business looking great. Pressure washing, window washing and parking lot maintenance are great ways to boost the aesthetics of your business and keep you looking better than the competition.
Pressure Washing
One of the fastest, most efficient and environmentally friendly ways to get a deep clean is to get your property professionally pressure washed. Getting your sidewalks pressure washed to remove gum, moss, mold, dirt and salt deposits can have a huge impact on how they look. It's really impressive how dirty they get without us noticing. A good cleaning can really show the difference, making your walkways look years younger, if not brand new.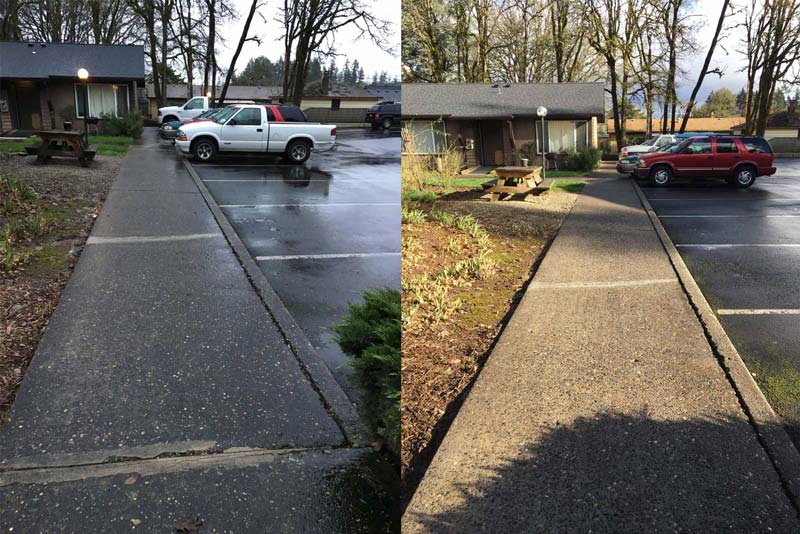 If you have unsightly dirt, moss or mold on the siding of your building, pressure washing might be your ticket to clean walls and a beautiful exterior.
A deep clean of your property not only makes it look better, but it will make your surfaces last longer. Mold and other harmful substances can cause materials on your property to degrade over time. An annual deep clean should be enough to keep your property looking great for years.
Routine Window Washing
Clean windows are a simple way to keep your business looking great. Being that windows are made to look through, our eyes are frequently drawn to them. Besides the obvious reality that dirty windows are unattractive, it's amazing how much light is blocked by dirt and grime on the surface of windows. Clean windows really do make a big difference. Washing your windows makes your building look good on both the inside and outside.
Besides aesthetics, routine window washing can make your windows last longer and cut down on your power bill. Window seals can be damaged by oxidation, condensation and corrosive contaminants. This can lead to air leaks and drafts, resulting in heat loss in colder weather and hot air leaks in warmer weather. Leaks in window seals can also potentially lead to water damage in wetter climates like we have here in the Pacific Northwest.
Condensation can build up on windows that haven't been cleaned in a while. This can lead to mold, which is both uninviting and unhealthy. Getting your windows regularly cleaned increases their longevity and makes them look better.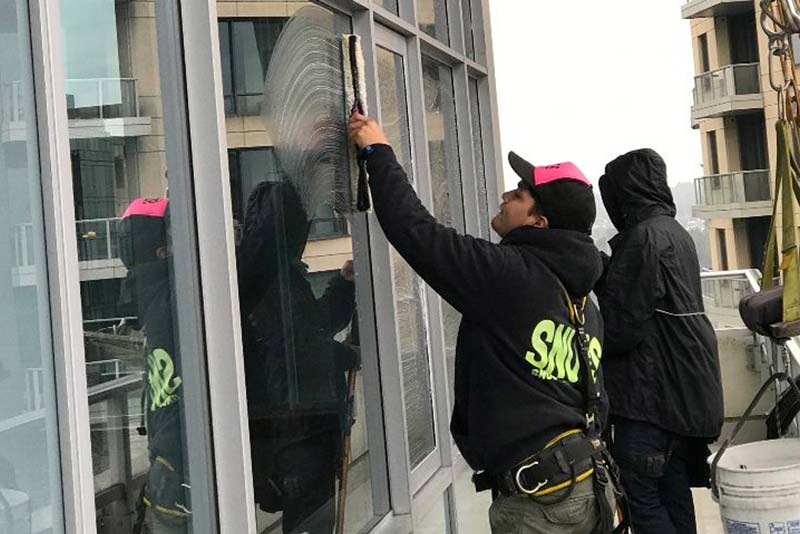 Parking Lot Maintenance
Parking lots and garages often go neglected when it comes to maintenance and cleanliness. There are a number of reasons that keeping your lot clean should be a priority. According to California State Social Psychologist, Professor Wesley Schultz, "The presence of existing litter was strongly predictive of littering behavior. So if you're in a place that's already highly littered, you're much more likely to litter than if you're in a place that's clean or free of litter." By taking care of your lot, you are telling other people that it's not ok to treat it poorly, and on the other hand if you don't take care of your property, others are less likely to care about making a mess on it.
Dirty lots also attract pests. Here in Portland, the rats are big and are potentially harbors for disease. Having pests running around your lot can deter potential customers from doing business with you. Keep it clean so pests have no reason to hang out there.
As with sidewalks, moss and corrosive contaminants can break down asphalt, which can end up needing a costly replacement. Hard debris, like gravel, can also be hazardous to the quality of your lots. Passing cars can grind debris into the asphalt and cause damage. Routine cleaning of your lots will keep them looking great and increase their lifespan.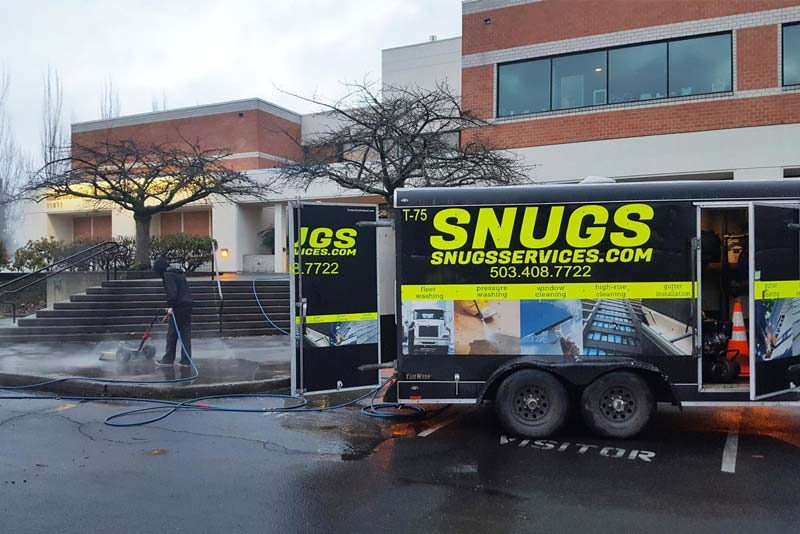 Conclusion
Here at SNUGS, we offer all these services to keep your business looking great. Keeping your hardscapes, windows and lots well maintained and clean will help you make that great first impression. Besides just looking great, these services will also help your property stay in great shape for years to come and help you avoid costly repairs that could be easily avoided with routine maintenance.
There's no need to worry about any of these services interrupting your daily routine or getting in the way of customers trying to access your business. SNUGS offers day, night and weekend services so that you can get these important tasks done at a time that doesn't interfere with your business.
Snugs Pro Wash, Inc, dba SNUGS Services, has been providing high quality Pressure Washing Services in Portland, OR since 1995. Started as a residential pressure washing and roof cleaning service, SNUGS is now one of the leading exterior cleaning companies in the Northwest. From our humble beginnings as a man with a truck and a trailer we have grown to become a multi-million dollar company serving corporate customers, name brands, and mom and pop companies alike.