Hand Washing vs Pressure Washing
Finally, spring is here. After months of rain, snow, sleet, wind and gloom, the sun has finally decided to come out and join the world. Usually with better weather come plans of tidying up the home, inside and out, to try and shake those winter blues. While dusting and vacuuming might take care of the interior of your space, the outside is usually a bit more work. After a season of keeping you safe and warm, your house has been pummeled by the harsh elements, wreaking havoc on its exterior. While built-up dirt, grime and debris can negatively impact your property's curb appeal, some build-up (like moss and algae) can be potentially damaging to a structure if left untreated for too long.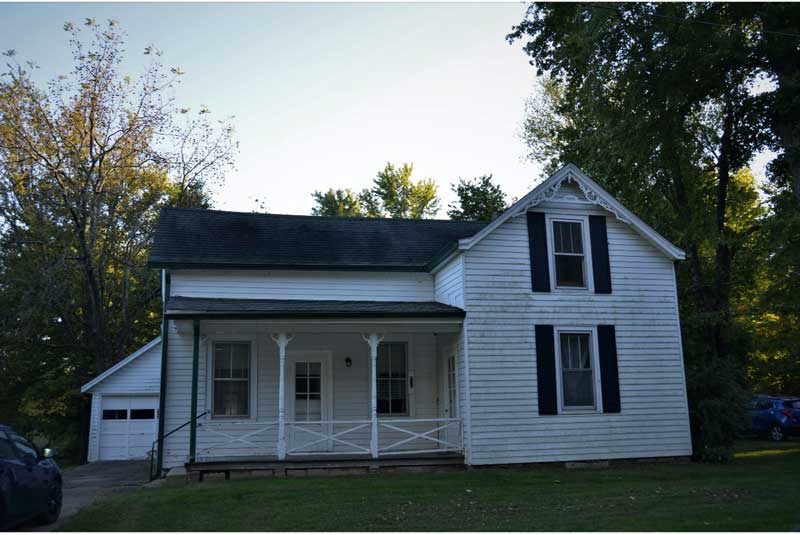 In order to keep your home or property looking it's best for as long as possible – without the need for renovation – you should plan for an annual exterior cleaning. Typically, when someone hears "exterior cleaning services" they automatically think "pressure washing". However, not all surfaces are created equal and some are unable to withstand the intense strain pressure washing can cause. There are different factors to consider when comparing pressure washing to hand washing techniques as well as pros and cons to both.
The Comparison
The first, and most obvious, difference between pressure and hand washing is the amount of pressure involved, shocker I know. A pressure washer is an incredibly useful tool that, by utilizing water and a power source, can destroy dirt in the blink of an eye. These machines often use less water, on average, then your typical garden hose and make quick work of dirty, soiled surfaces. In addition to reducing physical strain, the high pressure involved means there are less chemicals needed to achieve a dramatic clean (a plus for the environment).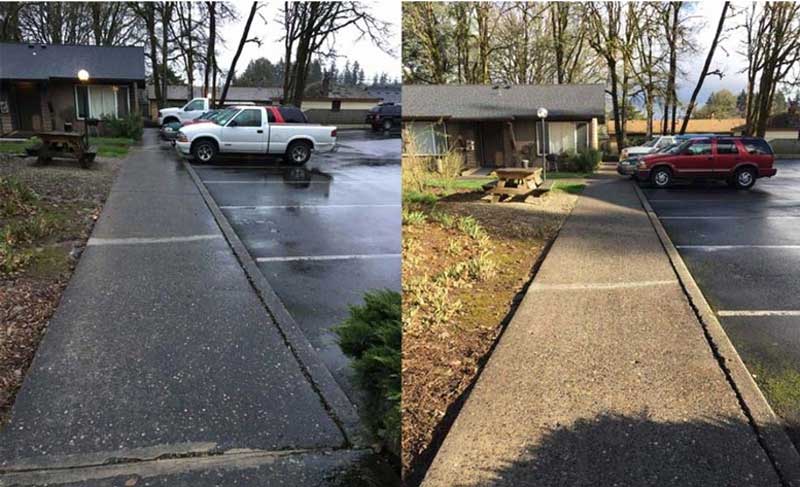 While pressure washing is incredibly efficient in removing unsightly build-up, it is also very good at removing things like paint, mortar and vegetation. In order to avoid unnecessary harm and ensure the cleanest exterior possible it might be time for some good old fashion elbow grease. While cleaning your property via hand washing will certainly take longer, it also dramatically reduces the risk of damaging things. Not to mention the fact that a scrub brush and garden hose cost a lot less than buying or renting a pressure washer and keeping it powered. Attempting to determine which chemicals to use on which surfaces, however, can be overwhelming and the physical exertion required exhausting, so there are many factors to weigh.
Cleaning It Yourself
There are perks to doing things on your own, cleaning included. Sometimes your budget won't allow for any other choice except do it yourself. On other occasions the projects are small and not very severe or you need a tight turn-around. In moments like these, you may find yourself standing out on your front lawn with a rented pressure washer, a bucket of sudsy water and a sense of determination. And that's great, but before you start you need to know which tools to use on which surfaces.
For the novice pressure washing operator who wishes to cause as little damage as possible, stick to cleaning strong, less porous materials. Walkways tend to be very durable – comprised of concrete, aggregate, stone, asphalt and so on – and should be cleaned using the pressure washer. This list also includes home foundations, driveways, unstained decks and garbage cans (when in Rome, right?). Porous and more fragile surfaces, in contrast, should be washed by hand using the proper cleaning chemicals and a rinse from a garden hose. If you are wanting items like your stucco exterior, cedar shake, wood siding or painted surfaces cleaned up, it's time to bust out the scrub brush.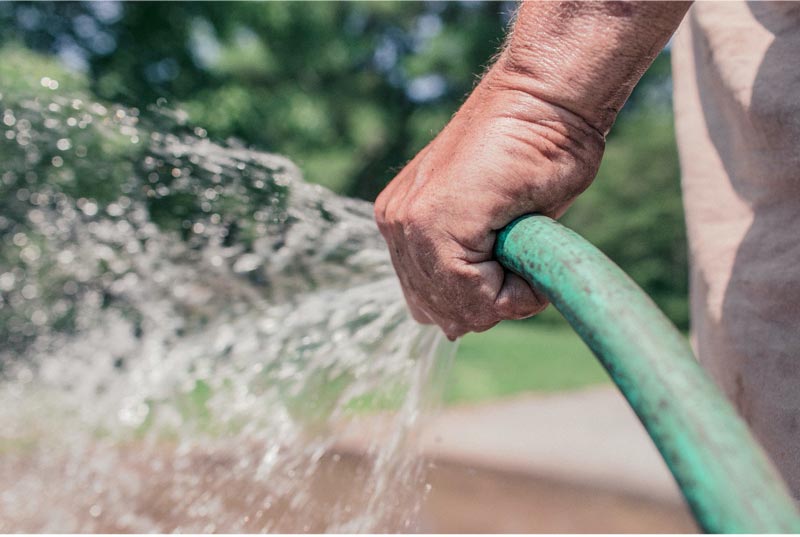 A Professional Clean
Even if you have the incredible mix of resolve, physical prowess and willingness to learn, there are limits to what the average person can accomplish when cleaning a property's exterior. For example, pressure washing your own roof is never a good idea. Certain roof types can be safely pressure washed with the right skill and tools utilized whereas others will be ripped to shreds. Not too mention, puttering around on a rooftop while grappling with a hose and large amounts of water can be quite a deadly cocktail for the untrained individual.
By trusting your local professionals, like Snugs Services, to efficiently get the job done, a larger variety of surface types can receive a proper cleaning. With our experienced crew and top-of-the-line equipment, we are able to pressure wash more sensitive materials like specific roofing, vinyl and aluminum siding, wood fencing and painted surfaces without the risk of damage. As for those harder to reach places or surfaces that require a more delicate touch, our meticulous hand washing combined with industry-grade cleaners offer stunning results. We take the steps necessary to ensure the safety of your property's structure and landscaping, regardless of method, so you can rest easy knowing you'll get a superior clean without losing any windows or rose bushes. So call up your dependable Northwest professionals at Snugs Services, for an unrivaled pressure and/or hand washing and finally give your home a much needed face-lift!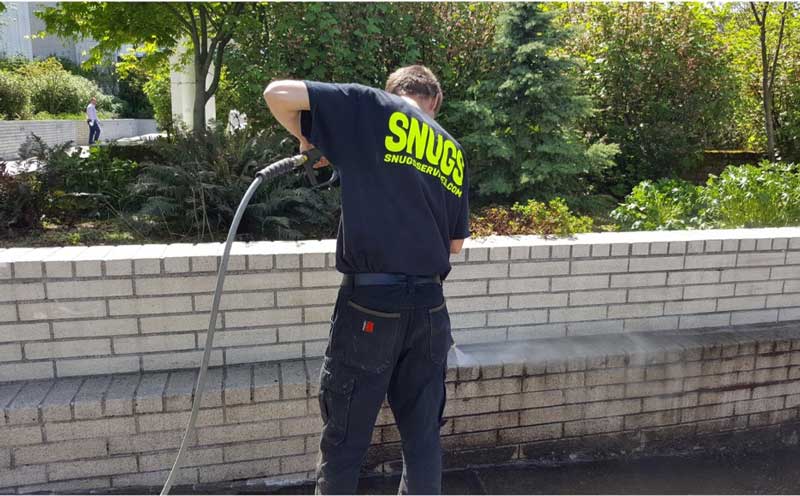 Snugs Pro Wash, Inc, dba SNUGS Services, has been providing high quality Pressure Washing Services in Portland, OR since 1995. Started as a residential pressure washing and roof cleaning service, SNUGS is now one of the leading exterior cleaning companies in the Northwest. From our humble beginnings as a man with a truck and a trailer we have grown to become a multi-million dollar company serving corporate customers, name brands, and mom and pop companies alike.
Follow SNUGS on Facebook, Twitter, and Instagram