Cleaning Your Outdoor Shopping Center's Exterior
The past couple of years have been rough for everyone but, luckily, things are starting to look up. With the new-found ability to freely leave our houses to enjoy the warming weather and clear skies, studies are showing that the average consumer is preferring to shop in-person rather than online, for anything from bodywash to dress clothes. If you are the proud owner of a strip mall or outlet center, this is music to your ears, but with a difficult winter season and a couple of years of lacks maintenance, it may be time for a deep clean of your property to ensure you are ready for an influx of eager shoppers.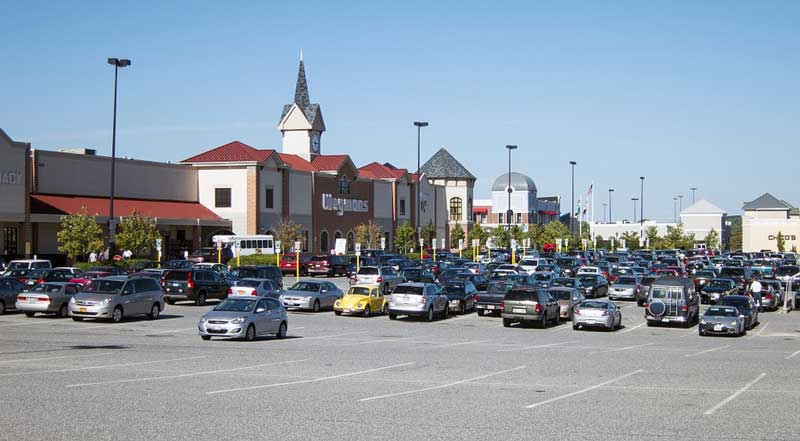 First Impressions
First impressions are everything when it comes to spending and making money. As a customer pulls into their local strip mall on a sunny Saturday afternoon, they're eye's subconsciously scan their surroundings. Where's their favorite shop's storefront, is there a parking spot nearby, a trash can to throw away their fast-food wrapper and what's the easiest way to exit once their shopping is done? These are all pretty typical questions a consumer might ask themselves in a matter of seconds, as they pull onto your property. However, their train of thought can quickly be interrupted by poor curb appeal, dingy hardscapes and scraps of trash gently drifting in the breeze. In under a minute, our consumer can conclude that the strip mall's exterior is a direct reflection of the store interiors as well as the quality of products found within and, with a sigh, determine that their money is better spent elsewhere.
Stores in your strip mall or outlet center losing potential clients because of your lack of exterior maintenance could lead to lower sales, frustrated tenants, vacancies and eventually an empty mall. In order to avoid such a disaster, there are steps you can take as a property owner to make sure this scenario never has the chance to play out. By hiring professionals to take care of the job, you won't have to break a sweat and can finally stop worrying about poor first impressions leading to possible bankruptcy.
What Needs Cleaning?
Strip malls and outlet centers tend to feature a lot of hardscapes (the parking lot, sidewalks, store fronts and so on) and tend to see quite a bit of foot and vehicle traffic. Combined with time, weather, debris and organic growth, your shopping center can begin to look dingy and unwelcoming with relative ease. Some of the most common areas that need a professional clean are:
Sidewalks and Curbs: ensure your walkways are clear from trash, gum, moss and algae growth and related stains. Extend the life of your concrete paths by removing such build up to prevent erosion of the porous material. Clearer sidewalks and clean curbs help to prevent slips and falls on your property, safeguarding you from legal battles. Not to mention, that walkways are the direct path someone follows to get into the store of their choice, why would you want to inhibit them, in any way, from entering and spending money?
Parking Lots: a pristine parking lot says a lot about a property's management. Keep your parking lines looking sharp and fresh for as long as possible by making sure the asphalt is clean of tread marks, oil stains, trash and unwanted plant growth. In addition to better curb appeal and happier customers, keeping a clean parking lot leads to higher levels of safety and asphalt longevity.
Store Fronts: this one might be a no brainer, but the cleaner your store fronts are, the more likely people are willing to walk inside and, consequently, spend money. Whether concrete block, brick, or metal siding, keeping your building exteriors sparkling is an easy way to ensure happier customers and tenants.
Store Awnings: an often overlooked feature to some businesses, awnings can collect a lot of dirt and debris from protecting customers as they run for cover from those suddenly raging storms that are so common here in the Pacific Northwest. To extend the life of your fabric awning or to guarantee a proper clean of your metal or glass awnings,

make sure to call a professional company with years of experience cleaning such features.

Dumpster Areas: while less likely to be seen by customers, depending on your parking lot layout, dumpster areas should be kept properly clean for the health and safety of employees working on your property.
Bring In The Pros
Finding a cleaning company that is capable of fulfilling all your requirements efficiently, expertly and within a schedule that works for you and your properties associated businesses, can feel close to impossible. However, at Snugs Services we understand this struggle and do everything we can to accommodate our customers' needs. With our custom-made power-washing trucks, top-of-the-line specialty equipment, experienced crew members and flexible schedule (offering services day, night and on the weekends), we do everything we can to ensure we won't interfere with business as usual. So do yourself a favor, give Snugs Services a call today and be ready for this spring shopping season!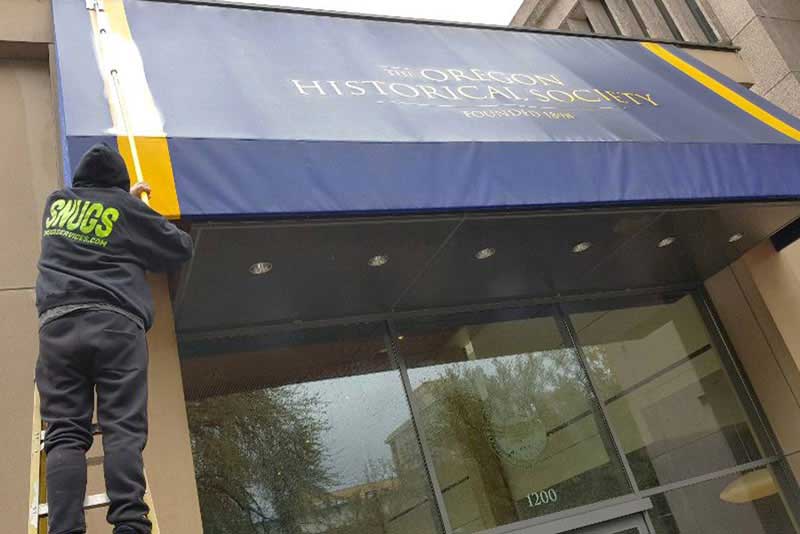 Snugs Pro Wash, Inc, dba SNUGS Services, has been providing high quality Pressure Washing Services in Portland, OR since 1995. Started as a residential pressure washing and roof cleaning service, SNUGS is now one of the leading exterior cleaning companies in the Northwest. From our humble beginnings as a man with a truck and a trailer we have grown to become a multi-million dollar company serving corporate customers, name brands, and mom and pop companies alike.
Follow SNUGS on Facebook, Twitter, and Instagram