3 Powerful Benefits of Commercial Window Washing
Windows are our gateway to the outside world when we are indoors. It's because of this that proper maintenance is crucial, for businesses or residential buildings. There are 3 big reasons you will want to get your hire the pros to routinely wash the windows for your property, whether it be a high-rise, mid-rise, apartment complex, business or home. Regular professional maintenance will improve the aesthetics of your building, extend the life of your windows and you will receive through and quality results that may be difficult to obtain for DIYers.
Aesthetics Can Boost Your Bottom Line
Clean windows let in more natural light. This may seem trivial, but it has very real benefits. Natural light includes all the colors of the spectrum, which promotes wakefulness and alertness. If you have an office building, more natural light is a great way to boost the efficiency of your employees. Being exposed solely to artificial light can lead to headaches, sluggishness and even depression. More natural light can also cut down on energy used to light your indoor spaces, which will reduce your energy bill.
Having clean windows also expresses to employees, prospective clients, customers or prospective/ current tenants that you care about your property and your business. You only get one chance at first impressions and looking professional will help make it a good one. People are very visual beings, and keeping a clean environment is more appealing to those who work at or are visiting your place of business and gives the impression that you pay attention to detail, making you and your business look like professionals.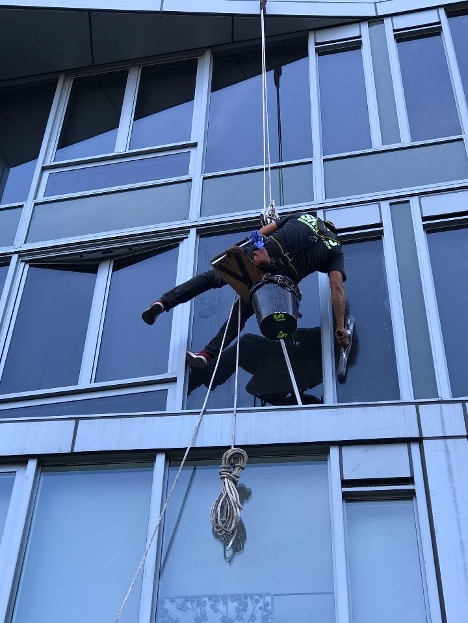 If you own an apartment complex, then you know that turnover is expensive and you want to keep as many of your units occupied as long as possible. A freshly cleaned set of windows can be the finishing touch on presenting a unit to potential tenants. With the increased natural lighting and spotless windows, even those windows that are difficult to reach, the entire unit will look brighter and more attractive. When you find a quality tenant, it's important to make them happy so they continue to rent. Routine washing will keep your current tenants happier, especially with the benefits of natural lighting.
Extend the Life of Your Windows
Natural deposits like minerals, dirt, grime, etc. can damage your windows, leaving scratches and scuffs. If left on, these deposits can actually bake onto the glass, making them much more difficult to remove. A fresh professional wash 3 or 4 times a year will keep your windows as clear as possible for years to come.
Another concern from natural weathering is the buildup of corrosive materials that can actually damage the seals around your windows. This can lead to drafts, reducing the efficiency of your windows and increasing your heating or cooling needs. Damages seals can also lead to moisture and mold problems. Water damage can be a very costly repair and mold can be a health hazard. This can be a concerning problem if your building is a mid or high-rise structure.
If your building is made of concrete, then it's very important to get your windows routinely washed. Several minerals that are used in the manufacture of concrete can leach out and cause your windows to become dirty on a regular basis.
If you have windows that open/ close, then it's important to keep the tracks clean so the windows will function properly or the lifetime of the window.
Thorough and Quality Results
Professional window cleaners have the equipment, knowledge and experience to get the job done quickly and, more importantly, get the job done right. Pros have access to high quality cleaning products and know how to use them to get a beautiful and streak-free clean.
Many buildings, mid or high-rise, apartment complexes, multi-story businesses, or even residential houses have windows that require special equipment to access. They may require ladders, lifts or rappelling systems, which can be a safety hazard if you are unexperienced with using them. Professionals have experience and are insured to use the equipment needed to tackle these hard-to-get areas.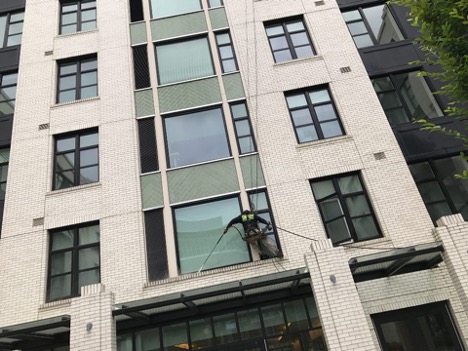 Window washing professionals also have a trained eye to spot any potential problems with your windows. Catching problems early is often the difference between a quick and easy repair and a costly one.
Getting the pros to wash your windows not only ensures that you'll get through and high-quality results, but it will save you time. Their equipment and skills mean they can get the job done quickly and you can focus on doing the things that matter to your business instead of washing windows.
SNUGS has been cleaning windows for more than ten years and have recruited some of the most talented window cleaning technicians in the Portland area. We clean every size of building from the tallest buildings in Portland, retail malls, and residential homes. We perform water spot removal, window restoration, window sealing, and polishing services also. SNUGS has cleaned some of the most iconic buildings in Portland like the Oregon Convention Center, Portland Performing Arts buildings, Metro Regional Center, Many of the multi-family high rise buildings, and many of the new high-rises in the south water front. We are contracted with many government agencies and schools for window washing services.
If you are worried that this work will get in the way of how you conduct business, then you'll be happy to hear that SNUGS offers day, night and weekend work so work can be done on your schedule. If you run a business that closes during night hours, then night work is for you. If you run an office that is closed on weekends, you may go for the weekend services. If you own an apartment complex, then you might for the day services to get the maintenance done when most of your tenants will be at work.
Conclusion
Getting your windows routinely professionally cleaned has 3 powerful benefits for in the world of business. The benefits of natural light both aesthetically and in terms of performance can lead to more efficient employees, good impressions and better rental numbers. Cleaning dirt and corrosive materials from your windows regularly will increase the lifespan of your windows. The results you will get from professional services will be through and high-quality, will get hard-to-reach places taken care of, can potentially save you lots of money in repairs by early detection and will save you time. Call SNUGS today to get your routine maintenance taken care of!
Snugs Pro Wash, Inc, dba SNUGS Services, has been providing high quality Pressure Washing Services in Portland, OR since 1995. Started as a residential pressure washing and roof cleaning service, SNUGS is now one of the leading exterior cleaning companies in the Northwest. From our humble beginnings as a man with a truck and a trailer we have grown to become a multi-million dollar company serving corporate customers, name brands, and mom and pop companies alike.